DON'T LET THE PERILS OF CORRUPTION KEEP YOU FROM EXPANDING INTO MEXICO
The extent of corruption in Mexico is no secret. It has been part of the country's politics and business culture for decades. Corruption and fraud have given Mexico a bad reputation and driven U.S. exporters to ask themselves if it is still worth doing business there.
The short answer is yes—but cautiously and making risk mitigation and fraud prevention an integral part of any growth strategy that includes exporting into Mexico.
With a gross domestic product of $1.15 trillion (International Monetary Fund figures for 2017), Mexico is the world's 15th largest economy and one of the heavyweights in emerging markets. As such, it remains very attractive to investors and businesses looking to expand globally.
A Bad Reputation
An abundance of fraud and a lack of legitimacy and transparency in the dealings of ruling oligarchs and elites have given Mexico a bad reputation. The complicity of government and law enforcement officials with criminal organizations has been reported in many cases of corruption in Mexico.
Corruption Report Card
U.S. News & World Report ranks Mexico as the fifth most corrupt country in the world. The publication's Best Countries Rankings, based on a survey of 21,000 global citizens in 80 countries, puts Nigeria at the top of the list of countries perceived to be the most corrupt, followed by Colombia, Pakistan, Iran, Mexico, Ghana, Angola, Russia, Kenya and Guatemala. The U.S., Australia and Canada are viewed as the least corrupt.
Transparency International's 2018 Corruption Perceptions Index, which uses a scale from zero to 100 where zero is highly corrupt and 100 is highly clean, shows Mexico with a corruption index of 29. Somalia is the most corrupt with a score of nine; New Zealand is the least corrupt with a score of 89; and with a score of 75, the U.S. is the 16th cleanest (or least corrupt) country. More than two-thirds of the countries scored below 50.
The World Economic Forum's (WEF) Global Competitiveness Report for 2016-2017 found that corruption in Mexico is "the most problematic factor for doing business" there, warning that bribes to facilitate procurement of necessary permits or government contracts can increase business costs there by 10 percent. According to the report, the global business community believes corruption and favoritism among government procurement officials is widespread in Mexico.
A recent study by non-governmental organization Mexicans Against Corruption and Impunity, revealed that 43 percent of established businesses in Mexico have paid bribes to speed up official procedures, obtain permits and licenses, prevent or impede abuse of authority, participate in a government bidding process and keep the police away, among other reasons. Businesses are not only victims of corruption, but also its beneficiaries, the report warns.
In a 2016 Mexico Corruption Report, GAN Integrity, a leader in compliance management software company, warns that corruption in Mexico is a significant risk for companies operating in there, noting that organized crime, bribery, extortion, abuse of power, incompetence and unreliability are extensive in the country's court system, police force, public services and business registration processes (e.g., construction permits). Mexico's anti-corruption laws are almost never enforced, and public officials are rarely held liable for illegal acts, GAN reported.
Mexico Fights Back
In recent years, under pressure from its citizens, Mexico has passed new legislation and ratified international agreements in efforts to curb corruption and improve its reputation.
Mexico's New National Anti-Corruption System
In 2015, the Mexican Congress passed a constitutional amendment creating the National Anti-Corruption System (Sistema Nacional de Anti-Corrupción or SNA)—a comprehensive framework for the prevention, investigation and prosecution of cases of corruption in Mexico.
The system gives the Superior Auditor's Office the power monitor resources transferred from the federal government to states and strengthens the Ministry of Public Administration and the Court for Administrative Justice, granting courts the autonomy to enforce administrative sanctions on public servants.
The SNA defines specific acts of corruption deemed criminal under the new laws, calls for a Special Anti-Corruption Prosecutor and sets up a code of ethics with legal implications and penalties for corrupt acts committed by government officials, politicians and private citizens. The system also establishes a basis for holding individuals and companies legally liable for acts of corruption involving public servants and encourages companies to develop their own codes of conduct.
Results so far have been mixed. Transparency appears to be increasing at the federal level but not so much at the state and local levels, perhaps because civil society organizations' are more focused on fighting corruption at the federal level.
SNA Snapshot
Created in May 2015 and ratified by Mexico President Enrique Peña Nieto in July 2016
Consists of four laws, the last one enacted in July 2017:

National Anti-Corruption System Law
General Law on Administrative Responsibilities
Organic Law of the Administrative Justice Federal Court
Audit and Accounting for Federal Government Agencies Law

Includes five amendments to these existing laws:

Federal Penal Code
Organic Law of the Federal Administration
Tax Coordination Law
Organic Law of the Attorney General's Office
For a quick summary of what the SNA means to U.S. companies, check out this article by audit, tax and consulting firm RSM US.
Crash Course on Trade Fraud Prevention
Corruption in Mexico and international trade fraud can hinder expansion into foreign countries. Thousands of businesses have been victimized by fraudsters and scammers, but your company does not have to be one of them.
Fraud can be prevented. Risks can be mitigated. Anti-corruption strategies can be established. Nonpayment can be eliminated.
Download our eBook—Preventing Fraud and Nonpayment in International Trade Transactions—to learn more about identifying and avoiding fraud, as well as reducing the risk of nonpayment in your export ventures.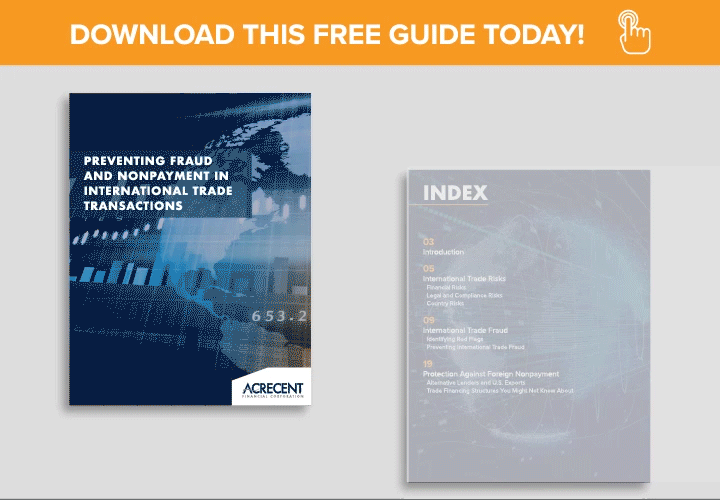 Data Sources: Export.gov, U.S. Department of Commerce's International Trade Administration, U.S. Department of Justice, U.S. Securities and Exchange Commission, Transparency International, World Economic Forum, U.S. News & World Report, Bloomberg, Forbes, The New York Times, Mexico News Daily, GAN Integrity, U.K. Department of International Trade, U.K. Foreign & Commonwealth Office, RSM US, FCPAméricas, Corporate Compliance Insights, Law.com/Corporate Counsel.
In case you missed some of our recent articles: