YOUR BIGGEST EXPORT COMPETITOR IS NOT ANOTHER COMPANY. IT IS FRAUD.
Your second biggest competitor?
Nonpayment.
As an exporter of manufactured goods, your risk of falling prey to global trade fraud and of not getting paid for your products are high. You need to face this reality, prepare for it and learn how to mitigate these and other risks involved in international trade in order to improve your chances of success.
Scammed, Safe or Oblivious?
According to PricewaterhouseCoopers' 2018 Global Economic Crime and Fraud Survey, almost half—49 percent—of global organizations have experienced economic crime in the past two years. PwC warns that companies in the remaining 51 percent may not have avoided fraud but may be unaware of having fallen victim to fraud.
Key Findings of PwC's Survey
49% of respondents said their companies had been victims of fraud or economic crime, up from 36% in 2016.
52% of all frauds were perpetrated by people inside the organization.
68% of external perpetrators, responsible for 40% of fraud, were "frenemies" of the organization: agents, shared service providers, vendors and customers.
42% of respondents said their companies had increased their spending on fighting fraud and economic crime over the past two years, up from 39% in 2016.
46% of respondents indicated their organization had spent more on investigating and intervening in fraudulent situations than the cost of the fraud itself.
The survey, which attempts to shine a light on fraud "blind spots" to help companies spot it, suggests that many companies are underprepared to cope with fraud. While there is growing awareness of the problem, few companies are fully aware of the individual risks they face and how fraud and corruption are holding them back from competing on the global stage, PwC reported.
For its 2018 survey, the London-based multinational professional services firm interviewed 7,228 company executives from 123 territories: 42 percent of the executives represented publicly listed companies and 55 percent represented organizations with more than 1,000 employees.
"He Who Fails to Plan…
is planning to fail." These are famous words by Winston Churchill that every exporter should heed.
Search the Internet, and you will find numerous stories about international trade fraud, import-export scams and exporters who never got paid. There's no way around it: going global offers much-wanted growth, but it also offers exposure to the much-unwanted risks of fraud and nonpayment (among others) that can hinder your growth.
Every business decision we make involves some level of risk, particularly when venturing into the international marketplace. Successful companies understand that they will face risk, yet they are able to manage it through meticulous research and planning.
As scams get more sophisticated, U.S. manufacturers and exporters are having to be more proactive in their risk management strategies. You cannot manage a risk that you do not know, so the first and most important thing you need for an effective risk management plan is information.
Every business decision we make involves some level of risk.
Take the First Step
Step 1: Inform Yourself
Our eBook-Preventing Fraud and Nonpayment in International Trade Transactions– is a good place to start. This condensed, easy-to-read guide is designed to help U.S. manufacturers and exporters identify and prevent fraud while pursuing their expansion goals.
Download this eBook and learn more about
international trade risks such as financial, legal, compliance and country risks;
red flags that could save you from being scammed;
identifying and preventing export fraud;
credit insurance and financial structures that can protect you from nonpayment.
Forewarned is forearmed. Global economic crime does not have to be part of your global expansion plans. There are victims, and there are volunteers. Choose wisely.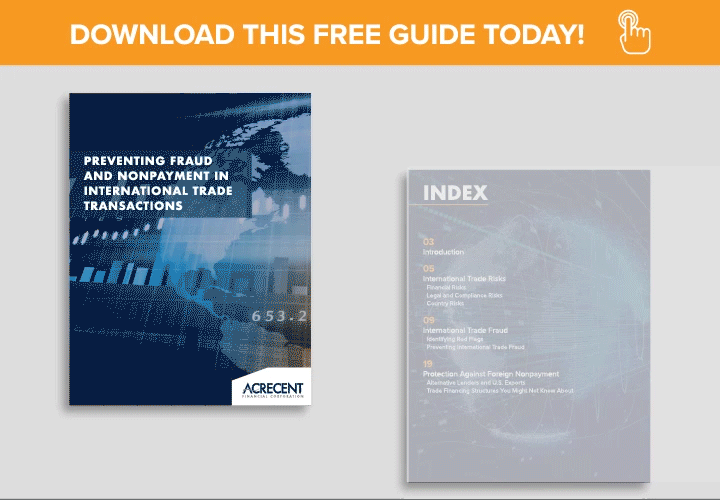 In case you missed some of our recent articles: